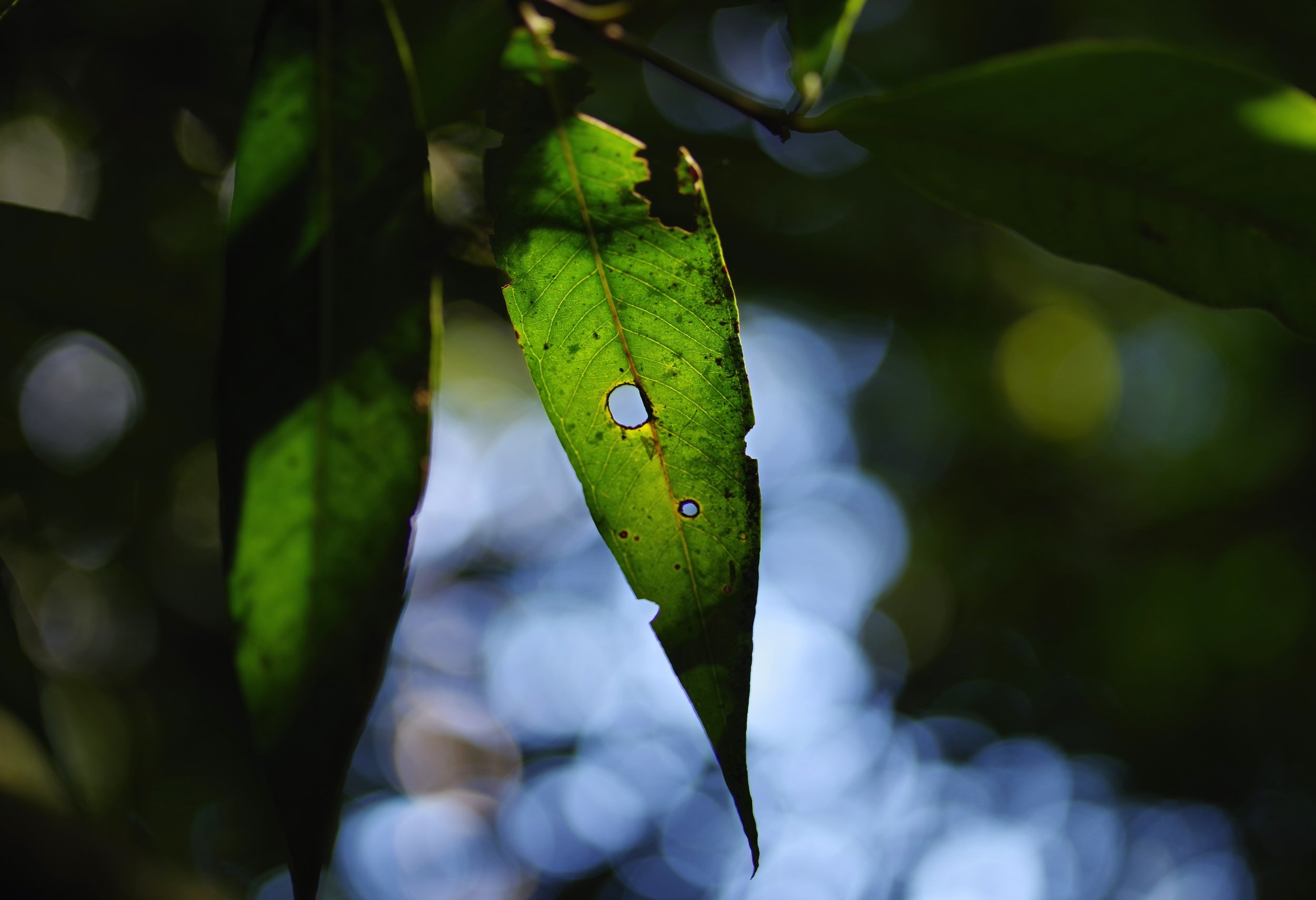 Rusty Rainforests
Leaves glisten in the morning light. A clearing in the trees allows the magpie robin's song to filter onto our jungle trail from the cloud-covered shadows beneath.
Counting Nuts
A grey parrot guards his collection of dry fruit and nuts in a busy Ranomafana market.
Peaceful Girl
Feeling very much at home around the local farming community, this parrot awaits left-over produce to be thrown her way.
Curious eyes
I have kept parrots and parakeets for many years and always found the depths of their beautiful dark eyes to be a mix of curiosity and gentleness.
Banana Leaves
The jungle humidity and soft morning light settle on these fine plants. Pull away a leaf and you may be welcomed by a frog, a spider or a large millipede.
Tram Lines
Drops of moisture settle on the parallel veins of a banana plant.
New Growth
Young saplings reach for the sky where old hardwoods once stood.
Plant Characters
The leaves of various plant species meet in the foreground of Ranomafana's vast rainforest, like differently-shaped characters meeting at a local market square.
Strangler Spiral
Nature's twining staircase, a young strangler fig begins its parasitic cling on an old tree.
Forest Beginnings
New shrubs begin their speedy growth from the forest floor, clamouring over one another in search of sunlight.
Leaf-Edge
A romantic setting for an insect couple in love, the edge of this leaf offers sensational views of the forest.
Delicate Growth
Ferns and epiphytes bring vibrance to the lower and middle reaches of the forest canopy.
The Undergrowth
Strangler figs twine around older hardwoods.
Tropical Skies
Natural skylights allow lemurs to keep a watchful eye out for birds of prey.
Forest Shade
Bracken and ferns thrive on the moist forest floor.
Blaze of Lichen
The fiery colour of this lichen stems from the acidic bark on which it grows.
New Growth
A young fern begins to sprout its first leaves.
Lush Hills
Verdant forest carpets the mountains that surround the Ranomafana rainforest reserve.
Forest Buds
Small fig species and berries supply most of the lemurs' diet.
Wisps of Moss
The humidity of Ranomafana's primary rainforest allows moisture-loving mosses to grow in abundance.
Blades of Light
A young sapling catches the morning sunlight on its straight leaves.
Living Jewel
The carapace of a dead beetle glistens under the morning light like a precious stone.
Epiphytes Galore
Mosses and ferns grow up the barks of trees to reach the rays of light above.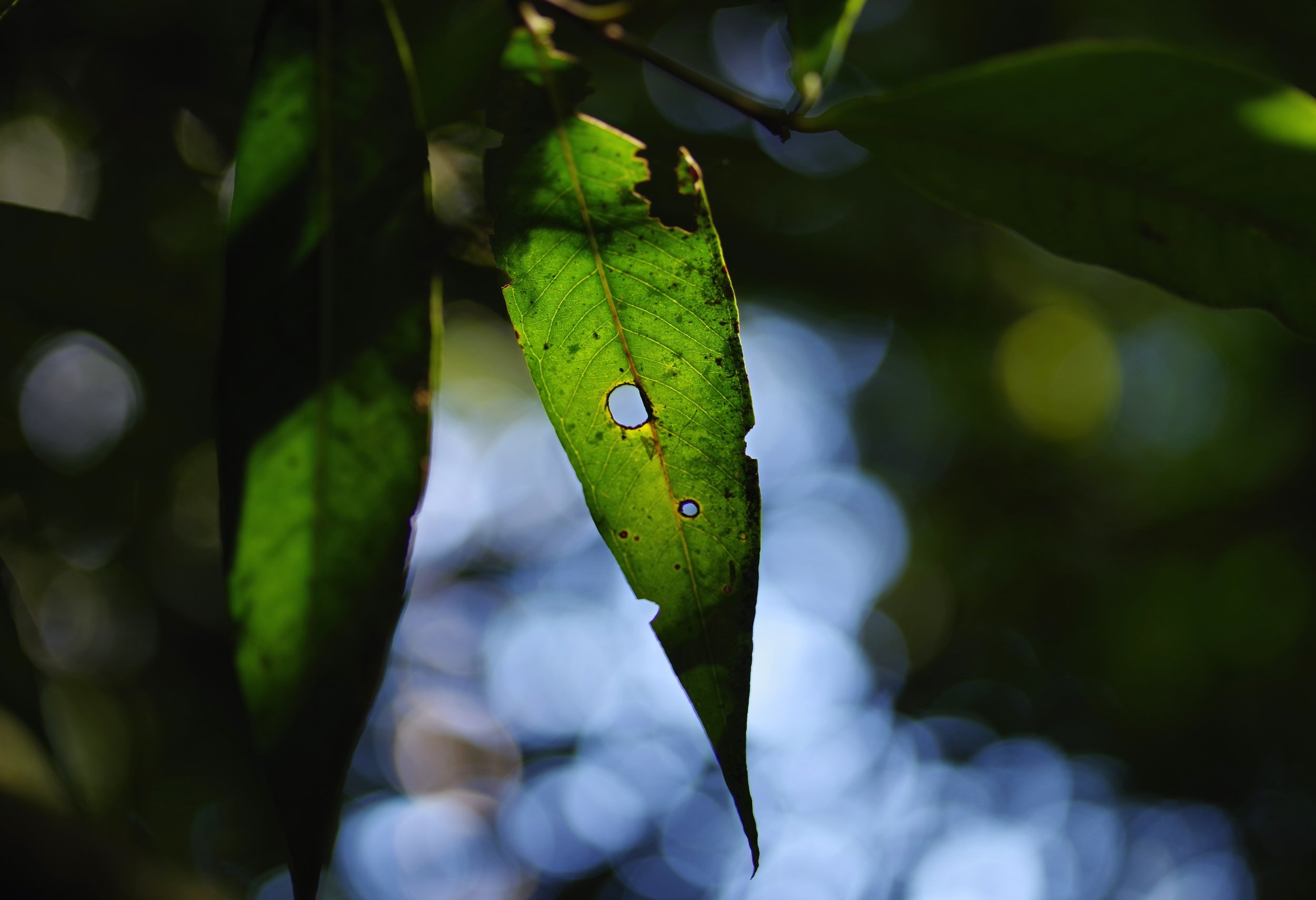 Leaves in Focus
Light floods the forest floor through gaps in the canopy foliage.
Forest Bracken
Overhangs of ferns and bracken crowd every corner along this river.
The Oxen Drive
Farmers lead their oxen to rich pastures in the lowland valleys.
Cattle Patterns
Docile cattle laze in the languid afternoon air.
Jean-Marc
With his torn red shirt against the backdrop of his traditional baked clay home, this young boy was a delight to photograph.
Efosi and Eliza
Two inseparable friends jostled for space in front of the camera and smiled politely while having their photo taken.
Anja, Nanette and Tomasi
Three siblings decked out in their best Sunday clothes hurried towards the camera before making their way to Church.
Anja and Nanette
These two sisters shoulder so much responsibility, cooking for their families and caring for their siblings from a very young age.
Efosi's Smile
Taking pride in her pink Sunday dress, Efosi poses outside her home, made of baked clay bricks. The rich pastures in the valleys around Ranomafana have awarded these villagers a good harvest.
Husso and Tomasi
An older friend, keeping an eye out for any trouble on the side, shares a photograph with young Tomasi.
Happy Trio
Tomasi, Pepita and Eliza line up awkwardly to have their picture taken. Nervous smiles will soon erupt into burst of laughter.
The Stone Game
I never quite understood the rules of this game but it involved separating groups of stones with a stick, then piling the rubble into small mounds before players fell into a frenzy of excited stone-trading and swapping.
The Stone Game
Piling stones into small mounds.
The Stone Game
Separating groups of stones with a stick.
The Stone Game
Once the stones are ready for trading, the game turns serious with notes of paper money hovering above the rubble.
Anja
The eldest of four siblings. Anja led her brothers and sisters towards me and my camera as they were making their way to Sunday mass. Her farming village in Ranomafana created the perfect backdrop for their portraits.
Anja
She had a confident way about her, taking the responsibility of leading her siblings to school in her stride.
Julie and Rosie
Like most young children in tucked-away communities, these two girls were not quite sure what to make of my camera. However the mischievous pair quickly started crying out for one photo after another.
Pepita and Efosi
Best of friends huddle together for a photograph in their village.
Pepita and Efosi
Two girls begin to hold back giggles as the camera starts clicking away.
Pepita and Efosi
All control is lost as Pepita bursts into laughter.
Pepita
I loved taking photos of this little girl in a too-large denim shirt.
Eliza, Sonia and Pepita
You learn so much about kids' characters by the way they line themselves up for a photograph. Eliza organized her friends into an order of height, whilst Pepita was more than happy to look on.
Rosie
Rosie shields her eyes from the strong sunlight above. The mid-day sun in Madagascar is a veritable force.
Julie
Casting a suspicious glance at her mischievous friends, Julie then peered right down the lens.
Efosi
Dropping the camera down to a child's height helps us see the world through Efosi's eyes.
Pepita and Rosie
These two friends could not stop giggling in front of the camera.
Pepita and Rosie
A tourist taking photos in a rural village is so often a source of amusement for the young residents.
Anja's Home
Most houses in Madagascar are constructed from wood and corrugated metal. The very wealthy might afford a stone or concrete building.
Pepita and Eliza
All smiles once again.
Tomaye
A farmer watches on as his children play outside the village chapel. The verdant hills of central Madagascar are largely agricultural and most families live off their own fields and plantations. Zebu cattle is another main source of livelihood.
Floriane
Squinting under the intense sun, this young girl from Ranomafana was only too happy to have her photo taken on her doorstep.
Off to Play
With Sunday mass over, these children scrambled out to play on the village streets.
Fosu
One of the youngest in his play group, Fosu approaches our cameras cautiously.
Children of Ranomafana
A small crowd gathers in the warm afternoon light.
Children of Ranomafana
Children pose outside their school in the small farming village of Ranomafana.
Children of Ranomafana
Everyone is called in for a group photo in one of the farmers' fields.
Boy in the Barn
A young boy retreats into the quiet of his father's barn as his friends play with anything they can find on Ranomafana's dusty tracks.
A Mother's Bliss
A young mother looks elated after seeing a photograph of her young daughter.
Running through the Stalls
A young girl dashes past a group of older boys playing table football.
Table Footy Gang
Table football and horseplay rule the day for this group of young boys.
An Intense Game
Table football provides the highest level of entertainment for this group of boys in Ranomafana village.
Brothers in Arms
Members of the same village group are eager to have their photos taken. Young men are attracted by life in the much busier cities, such as Antananarrivo but make the long journey home during harvest times or for important celebrations.
Nicolette and Baby Fausa
A young girl looks after her baby sister while supper cooks in the clay home behind her. Women in rural Madagascar traditionally fill domestic roles.
Watery Fields
The setting sun is reflected in the still water of these paddy fields whilst a soft whisper of smoke escapes a farm's chimney. French-style farmhouses are found throughout the rural hills of central Madagascar.
Mother and Son
A young boy is hoisted across his mother's back as she makes her way through the paddy fields.
Marie
Using a chicken to cover her face, Marie hides from the camera.
Marie
The soft clucking of her chicken provides some source of comfort for this young girl, so very shy of the camera.
Madagascar Beats
A young boy turns up the bass on his portable radio. When you grow up on the streets, music is an universal source of entertainment.
Angele and Philipe
Angele photo-bombs her brother Philipe. One truth kept ringing true while I spent time with these children - that they were happy enough living on the streets and in the fields, playing with wooden toys instead of the tablets and smartphones of today's generation.
Banana Leaves
Dew drops catch the morning light as they course down the veins of this banana plant.
Lush Forest
Evening light gives these plants a rusty colour.
Climb to the Top
The tallest trees form the forest canopy above.
Forest Rays
The afternoon sun winks through thorns, hardwoods and saplings.
The Undergrowth
Lemur trails line the forest floor.
Gentle Waterways
Placid lakes dot clearings in the forest undergrowth. They make perfect resting spots and drinking holes for lemurs and other endemic wildlife.
Gushing River
Water flows out of natural springs before entering the brackish lakes below.
Evening Lake
Many bodies of water are sacred in Madagascar, with spirits in the guise of lemurs and chameleons ready to avenge their homes should they ever be disturbed.
Canyon River
A stream of water cuts through this limestone canyon in the centre of Ranomafana rainforest.
Natural Blinds
Thick leaves and spindly branches allow the perfect amount of sunlight to filter through.
Sky High
A dead tree, perhaps burned during a lightning strike or forest fire, accompanies a group of younger hardwoods as they reach for the clouds above.
Forest Drapery
Leaves, branches and flowers create the perfect backdrop for the intricacies of life in Ranomafana.
Green Slopes
The base of an extinct volcano in southern Madagascar is carpeted in thick vegetation. Water running down the slopes settles as dew and moisture on those thick leaves.
Elephant-Eared Chameleon
This small chameleon species opened one eye to observe us on our night expedition.
Pin Stripe
A small chameleon species hangs motionless on a leaf, its flank decorated by an ochre stripe. At night chameleons tend to gravitate towards the lower reaches of the forest scrub.
Night Leaves
Dew drops glisten under torch light on a night expedition through Ranomafana rainforest.
Ranomafana at Night
The night is never still, with nocturnal mammals, amphibians and insects read to stir up a racket.
Forest Hues
Twilight over the forest-clad hills creates an abundance of warm colours.
Bursting with Life
Ranomafana's undergrowth teems with life, evident by the shrill calls of hundreds of bird species and the sound of lemurs chasing one another in the trees. Frogs and insects create an equally loud cacophony at ground level.
Rain on the Way
Clouds seemingly form out of nowhere to shower the forest below with rain.
Evening Colours
The forest and its inhabitants begin to settle down for the night.
Road to Civilization
An old lumbering route cuts its way through Ranomafana valley, the only accessible road through part of the forest. Birds of prey could be seen through the clearing in the trees above.
Birding
A keen birder, Juan scans the tree tops for endemic species. A drongo later caught his attention here.
Evening in a Rainforest
As the calls of indris and cicadas hail the onset of evening, the rainforest descends into a magical array of colors and sounds.
Mist Rolling In
Moisture from the surrounding hills collects as wisps of mist to descend upon the lush valleys below. The wet environment is brimming with life.
Hill People
We met several villagers as we crossed from one rural village to another in Madagascar's mountainous interior.
Happiness in the Hills
These young children were only too happy to crowd around for a group photo in the central highlands of Madagascar.
Wood Cutters
Children earn their living by performing manual jobs in most rural settlements.
Hotely
A dubious, yet colourful place to spend one's night on the road.
The Barn and the Bicycle
The emptiness of this place struck me. In vintage-photography style, an uncle and his niece in a red coat pick up groceries from the remotest of shops, reachable only by bicycle.
The Farm
Rain approaches a lonely farm on the hills.
Muddy Tracks
Wetlands surround these railway tracks on either side. Trains are solely meant for the transport of goods. The population cannot afford to use them.
Abandoned
A red-clay barn has seen better days. Here it awaits the summer storms to turn it into mud.
Traffic Toys
Children sell toys made out of scrap metal, reflecting the lorries and trucks that drive past on the highway.
Market Streets
A busy market packs up as heavy clouds thunder into view. This street was in Finarantsoa.
Wetlands
Paddy fields dot the landscape in this lowland valley in central Madagascar.
Fountain in the Forest
The flicker of a waterfall announces its presence in the deep green swathes of rainforest that surround it.
Watery Trail
Footprints in the wet mud belong to locals, lemurs, fossas and birds alike.
Quiet River
A sluggish river flows through the primal rainforest, leaving an umber track in its wake.
Sounds of the Forest
The Indri's haunting call echoes through the leafy forest floor.
School Outing
Back home, a school outing may have been a trip to a historical fort or a museum. In Madagascar, children are taken lemur-spotting in Ranomafana rainforest reserve.
Epiphytes
Small plants grow along the length of larger trees, obtaining all of their nutrients and water from the air around them.
Rainforest Delight
Patches of light filter through the dense canopy above, giving rise to young saplings and palm trees.
Forest Steps
Wooden steps beckon one into the rainforest beyond.
Green Corridors
An abundance of endemic plant and animal life lives within the deepest reaches of this forest.
Journey into the Interior
Some stretches of our rainforest adventure required the use of canoes.
Forest Road
The quietest stretches of forest path are where most fauna is spotted.
Canopy
The foliage was so thick that even with the sun at its fiercest, most of the light was drowned out.
Wooden Walkway
A bridge composed of polished wooden planks hangs limply above a flowing river.
The Plantation
An expat's rubber plantation graces the edge of a verdant rainforest.
The Plantation
A rubber planter's house and motorbike sit beside a muddy lane.
Reflections
A brown river catches the reflections of trees lining its banks.
Canoe Crossing
A string of canoes line the banks of a tranquil river.
The Plantation
Banana plants and rubber trees create a little oasis in the midst of thick jungle.
Forest Clearing
Brackens and mosses fill up the void left by felled trees over large swathes of Eastern Madagascar.
Ranomafana F.C.
A muddy field would have to make do for this football nursery's pitch.
Spider Shadows
A large spider stalks its prey behind a veiny leaf. The stillness of night allows for a more covert operation.
Hawk-Eye Moth
The largest moth species known rests on a piece of bark.
Dapples of Light
Another evening and light streams onto a football field in Ranomafana village.
Termite Temple
The ruins of a clay church lie abandoned in a forest clearing. They gave me the impression of a huge termite mound.