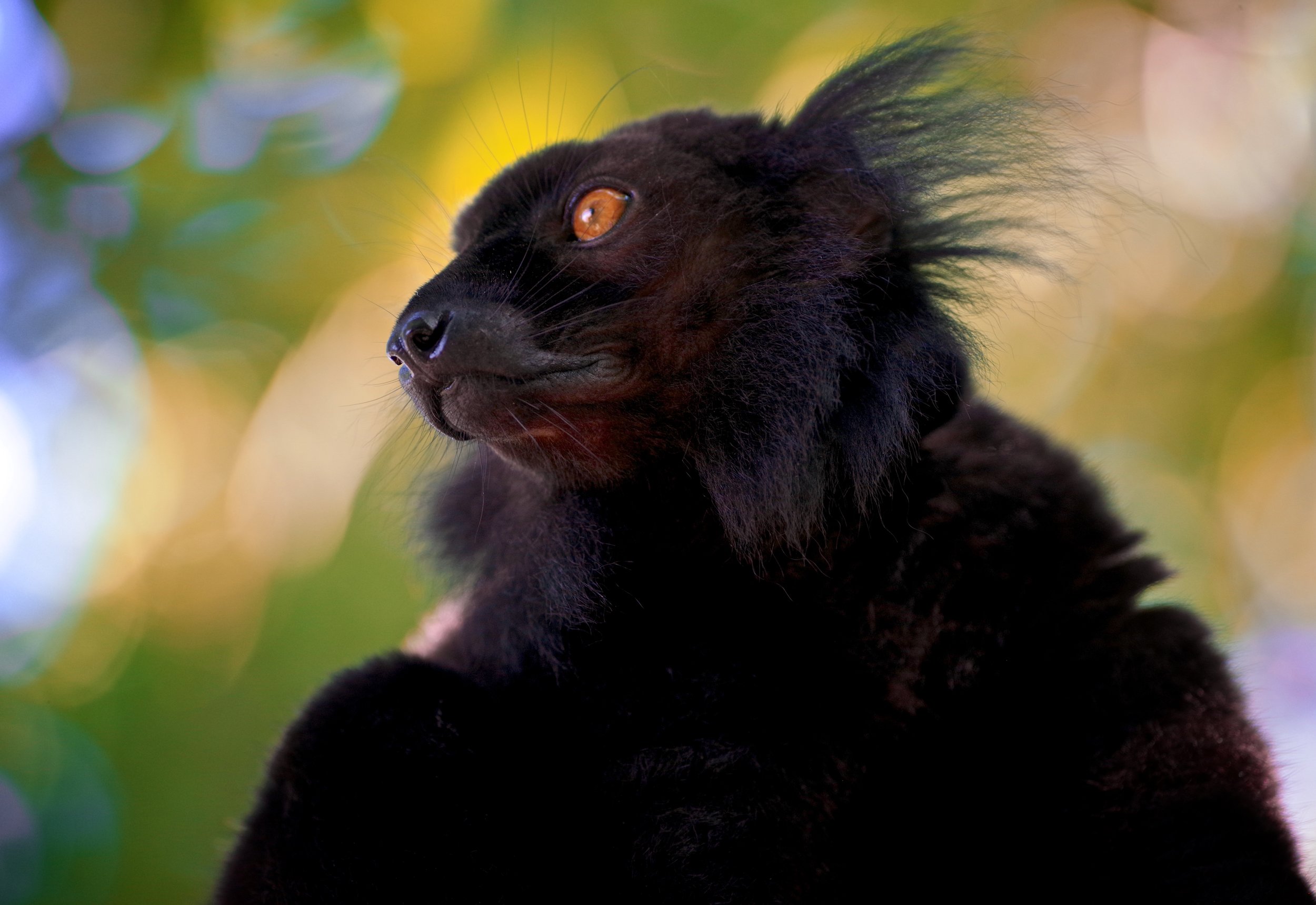 Nosy Be Black Lemur
Jet black fur and an eccentric mane gave this lemur a startling appearance. It's almost as though he walked out of a monastery.
Goggle Eyed
That ever amazed look is endearing. Lemurs are big on character. They will not shy away from visitors to their patch of scrub and will happily search for insects, fruit and nuts in gardens and hotels.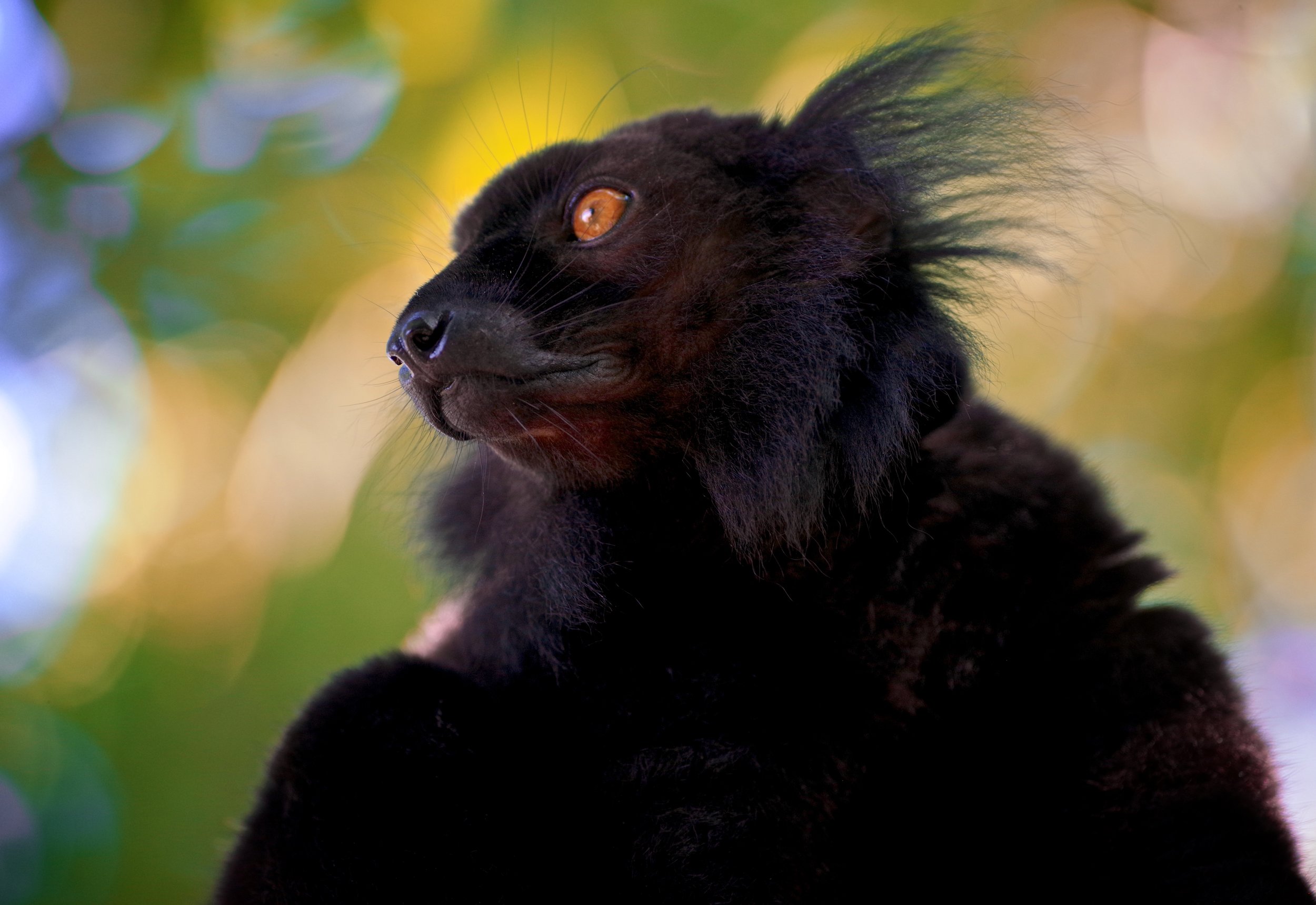 Where are You?
A male black lemur looks around for his mate. Lemurs in general are extremely social animals.
Heads Up
A lemur is always looking over his shoulder, looking down to the forest floor and looking upwards at the canopy above. When lemurs make a tree their home, they tend to fill every part of it.
Hide and Seek
A female black lemur is not black at all. Beautiful shades of cream and tan complement a bluish-gray mascara that surrounds two magnificent amber orbs.
Tree Happy
Lemurs are very much at home up in the trees. Nosy Be was once completely forest clad but much of the island has been cleared for agriculture.
Prince of Lemurs
The smart profile of a black lemur stands out against his forest home. On hot summer afternoons, a lemur relishes the breezy heights of his favorite tree.
Black Sheep
Black lemurs have a boisterous charm. Their fur is as black as crude oil and very silky around the ears and the tail.
Look Out Post
A black lemur looks out from his favorite vantage point. the streets of Hell Ville, on Nosy Be, become quite lively as morning progresses.
Lady Lemur
A female black lemur arranges her fur and delicately cleans her feet atop a large tree.
Strong Willed
Female lemurs often bear the responsibility of protecting their homes, marking their territories with the scent of powerful hormones.
Sun Dappled
A lemur's eyes become reflective orbs, almost unnaturally round and filled with age-old wisdom of the forest around them.
Healer's Tent
A natural healer resides on the shores of Nosy Be, treating his patients under the protection of a magical red canopy.
Island Homes
Wooden fences and tropical vines separate the humble dwellings that make up this village fringed by coral reef.
A Lemur's Alarm
Lemurs let loose a cacophony of calls at any site of danger, be this a snake or an eagle. Keen eyes peer in all directions and lemurs keep to the safety of trees until the danger has passed and normal life can resume.
Vertical Life
This male black lemur contemplates life from an odd angle.
Quiet Backwaters
Modest fishing boats lay about the banks of a backwater harbour. Fishing is the island's main source of revenue.
Shrimping
A small boat with a drag net is used to collect shrimps from the muddy shallows.
Golden Oldies
Fishing boats at the end of their working lives lie rusting in the salty lagoon, on the southern coast of Nosy Be island.
Palace Roots
Throngs of strangler fig vines engulf the remains of an abandoned palace.
Ancient Skylight
Walls made of vines and creepers enclose a crumbling courtyard in the centre of this palatial maze.
Window to a Jungle
The heat of the afternoon was almost tangible. Lemurs criss-crossed from one branch to another, flaunting their acrobatic skills.
Glassy Sea
Turquoise mixes with lilac as the sun lessens its grip on this beautiful bay.
Through the Bushes
Ancient ruins just out of the tropical scrub. Many of Madagascar's ancient remains date back to the French Colonial period.
Framed by Trees
The roots of strangler vines lined the entrance to this palace complex.
Hanging Roots
Banana plants and young saplings rise out of the moist earth on the coast of Nosy Be island.
Old Train Station
An abandoned colonial train station lies forgotten and engulfed by weeds and creepers.
Welcome to our Island Village
A group of children halt their play and line up for a quick photo at the entrance to their island village on the southern coast of Nosy Be. The air was tranquil and the light crystal clear.
Fanojah, Timothe and Sol
Three siblings bask in the warm light before picking up their ball and escaping to the shade of the tamarisk trees.
Anju and Wilfred
Young boys play on the edge of a dirt road in southern Nosy Be. Children on the offshore islands of Madagascar live rural lives. Wooden toys and beach combing objects are rare treasures for them.
An Island of Valleys
Hardwoods jut out of the dense undergrowth in the center of this fertile island.
Sun Between the Bars
A glimpse onto the sun-drenched shores of a fishing village, behind the iron bars that surround a central market.
Luis Felipe
An experienced fisherman discusses an approaching sail out to sea with his partner. The waters around Nosy Be offer the islanders their main source of living.
Fish Drying
The carcasses of fish are halved and left out to dry to a thin crisp in the fierce midday sun.
Water Play
Brother and sister play in an old fishing boat among the shimmering cascades of the Indian Ocean.
Watery Shadows
A young boy pushes the arms of an outrigger canoe along the sandy bank of a bay in Southern Nosy Be.
Hung by the Gills
An assortment of fish are hooked up to a propped up piece of old driftwood, drying off in the sun until they are thrown on to a sizzling pot fire.
Straight from the Sea
A girl holds up the two fish that she has just washed in the gently undulating waves of the sea that surrounds beautiful Nosy Be island.
Set for the Waves
A line of wooden canoes are hauled onto the sandy banks before it is time for their evening fishing voyages. People have used canoes to fish with for centuries in Madagascar.
Sunlight on the Sacred Lagoon
I was immediately captivated by the sharp lines and beautiful contrasts created by the palm trees surrounding this lagoon and the harsh sunlight that tore through them.
Sulemi
My guide through the interior of Nosy Be. A quad bike proved to be a useful means of transport through the rougher parts of the island.
Palm Shoreline
Young palms and mangrove trees crowd the edge of Nosy Be's muddy shores.
Shade of a Banana Leaf
The sun reaches its gentle arc at the end of a warm evening. Banana plants are often found at the edge of plantations and farms.
Overgrown
Vines and twisted roots engulf the face of a simple home in Hell-Ville, the tepid capital of Nosy Be island.
Sisters of Hell-Ville
Three girls look out from their balcony and laugh at the odd assembly of tourist, quad-bike and camera.
The Red Quatrelle
A farmer proudly washes his bright red Renault IV.
Layers of Sunset
A beach appears to burst into flames of colour under the evening sun.
A Peaceful Bay
Long stretches of dark sand catch the fiery rays of sunlight as everything turns to gold in Nosy Be.
Annabelle
Waiting half way up the trunk of a fig tree gives one a better vantage point to spot your siblings as they return to a favorite spot for play.
Annabelle
Waiting half way up the trunk of a fig tree gives one a better vantage point to spot your siblings as they return to a favorite spot for play.
Samira
Annabelle's sister sold coconuts and mother of pearl at a bamboo stall overlooking a turquoise mountain lake in the very heart of Nosy Be island.
Annabelle and Etofi
These children hurriedly stopped for their photograph before escaping down to the lake's shore to play.
Amanda
Women in Madagascar use saffron powder and natural clay to protect their skin from the sun's fierce rays.